Food Banks
St Mary's, Cholsey is pleased to support Wallingford Food Bank with contributions of food and our prayers.
Wallingford Food Bank is part of a national network of food banks and has now been running for some time. It is not a substitute for the long term care offered by the Social Services. The Food Bank does not ask how the situation of desperate need came about. It is not judgemental. It simply acknowledges the need and provides emergency relief.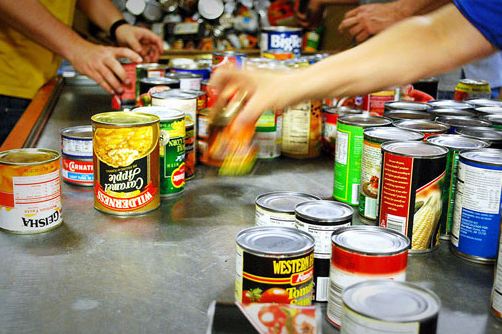 Manager's Report July 2023
This month's headline is that this year we have already fed 18% more households than in the whole of 2021/22 – and 23% more children.
This month we have fed 216 adults, 154 children in 129 households.
People often query whether the need is real. David Tole forwarded me some helpful statistics about food inflation currently. Some examples of increases that are directly relevant to the food we give out are:

Pasta products and couscous 24.7% Tea 16%
Low-fat milk 21.7% Coffee 11.4%
Jams, marmalades and honey 22.5% Sugar 53.6%
Fruit and vegetable juices 22.7% Fruit 10.2%
Additionally, the average increase in fuel prices is gas 36.2% and electricity 17.3%. (The figures are the percentage change in the average price over the 12 months to June ONS). Compare this to the 10% increase in benefits (including the state pension)which only happened in April 2023. Compare it also to the average pay increase: 7.6% for the private sector and 5.6 for the public sector (Feb to April 2023 ONS). This means in real terms many people are living on less than they were this time last year.
I speak to referrers frequently. One recently, who works in the public sector and has held their job for some time, mentioned that they were considering selling some of their jewellery to help with the heating bill. "And that is after we hardly had the heating on this winter!"
One of the reasons I speak to referrers is to check with them about clients who have been having food for some time. Our traditional model was to have a client for a while and then the difficulty would be resolved, and they were independent again. This is simply no longer the case for some people. I am robust in my discussions, but on more than one occasion recently have come away from such a conversation, saddened by the situation in which others find themselves.
Then I receive a note from someone who had food recently,
Hello just would like to say thankyou for the donation will really help me out !!

As my financial situation should be improving this next month I'm Hoping to cancel my application and allow for the food to go to someone who needs it more !! Many thanks again will help us for a few weeks but will not need anymore

This is encouraging. We must remain hopeful that the situation will improve. We are so grateful for your support which allows us to help those who are really struggling.
Alice Penney