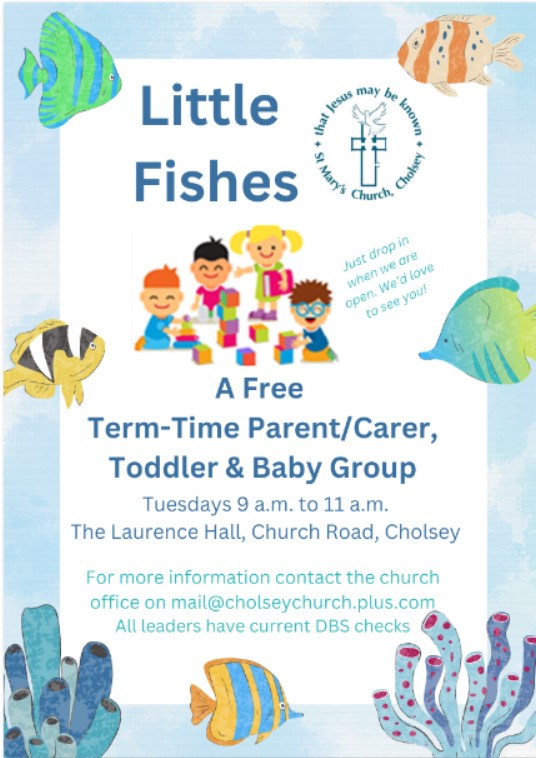 Little Fishes started meeting again in September 2022 and runs on a Tuesday morning in the Laurence Hall from school drop off until about 11am. Do drop in and say hello. Snacks are provided for the children and coffee and biscuits of the parents and carers.
Like many churches all over the U.K., St Mary's in Cholsey, Oxfordshire, runs a parent and toddler group. We call it Little Fishes and it is open to anyone, mum, dad, nanny, granny who cares for a child under 5 years. The group is run by members of the church, and like most parent and toddler groups has the usual mix of toys and craft activities, plus a very large garden for use on fine days
Little Fishes began thirteen years ago with about six mums and their small children meeting in the church for a year, then in one of the leaders homes. The aims of the group were to offer friendship and support to the young families who came, and to share God's love for them. The wider aims were to offer parenting courses, organise speakers to come to the group, and cooking and craft opportunities for the mums as well as the children.
It started slowly, with only 6-7 mums coming each week for the first two years. We nearly gave up, but God kept us faithful to that vision and provided a better venue. The Laurence Hall (owned by the church) was vacated by the Pre-school and we moved in. Nine people arrived on that first morning. We sat down with them, explained who we were and where we were coming from. Two and a half years later we average 30 parents each week, and 35 -40 children. We have had talks from various people including the local head mistress and a health visitor, and one mum sharing her skills and teaching the others to make cushion covers. This particular mum was encouraged to come by the health visitor, and one day she admitted she did not want to come as Little Fishes was run by the church, "but you are all such lovely people" What a great reward for us.
Sharing our faith is high on our agenda, Little Fishes is one group that helps unite church and village.